Ahlan waSahlan Marhaban ya Ramadhan.
The ninth and holiest month is here again.
Many of the world's one and a half billion Muslims has started performing their
terawih
, the annual month-long night prayer.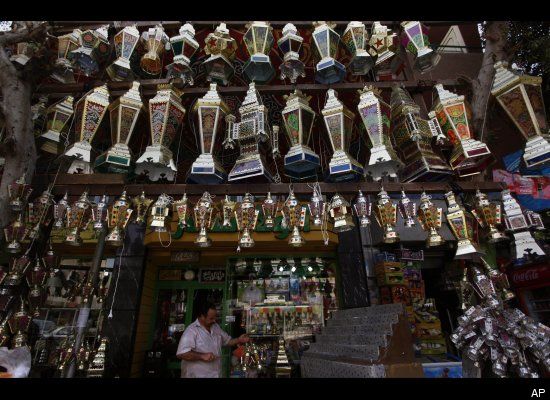 When life is made easy for me and the rest of us, having the choice of
where to perform our terawih
and
where to get our porridge
, at just our fingertips, there are others out there who are struggling for a decent and proper living. They are deprived of the basics in life. I wonder how those people in countries under landslides, flood and fire going to spend their Ramadhan.
******
In Pakistan
People in Pakistan are reeling from two weeks of flooding that has killed 1,500 and affected nearly 14 million people. There are those who are now trapped by the high water. Villages along the motorway from Peshawar to Islamabad are inundated and women waded through knee-high water. This flood is one of the worst natural disasters in the history of Pakistan. Pakistanis are trapped by the floods. Dozen of bridges destroyed and roads washed out. The floods destroyed dozens of buildings and hotels. There are no food in the market and no electricity. This torrential monsoon rains flooded Pakistan has sparked massive humanitarian crisis. Religious charities moved fast - Faster than the Pakistan government that worried US. A number of organisations highly visible in the battle to help provide relief to millions of flood survivors to fill the void created by the perceived failure of the civilian government to mobilise and fears are growing that such charities are using soft power to propagate extremism. The battle for hearts and minds has been drawn.
"So far we have helped 250,000 people,"
AFP was told by a man at a camp set up by Falah-e-Insaniat Foundation, a welfare organisation in the district of Nowshehra, where dozens of bearded volunteers dished out food. Pakistan's government, cash-strapped, have been accused of infighting. The government gave the flood victims tents and nothing else. Six million people are now dependent on help to survive and enormous number of local and highly reputable NGOs and the international NGOs have already mobilised for this crisis. All goods and help have been supplied by affluent, ordinary citizens and private organisations.
******
In China
Fresh heavy rains fell for about four hours overnight today brought more misery to a town in northwest China, devastated by mudslides that had already levelled an area five kilometres long and 300 metres wide. 1,117 people were already confirmed dead, another 627 residents went missing, and three more disappeared overnight. At least 45,000 people have evacuated their homes, and 30,000 tents were delivered with thousands more on the way. Zhouqu has a population of 134,000, Xinhua news agency reported the shortest route used by relief crews into Zhouqu, a town nestled in the mountains of Gansu province, from the provincial capital Lanzhou was blocked. It turned one of the main streets in Zhouqu into a small river and flooding army tents on the roadside leading into the disaster zone.
Entire communities in Gansu province were swallowed when the debris-choked Bailong River jumped its banks early Sunday, releasing wave after wave of mud and rubble-strewn water. The water level in the Bailong river, which cuts through Zhouqu, was said to be higher yesterday. Crews using explosives and excavators rushed to drain the unstable barrier lake that was created by the rubble that, if it were to burst, could bring further destruction to areas already levelled by the torrent of mud. Floodwaters up to three storeys high have submerged half the county and the peaks surrouding the town were shrouded in dark clouds. The town was effectively split into two. Buildings were torn from their foundations, their lower floors blown out by the force of the debris-laden water. Three villages comprising hundreds of households were entirely buried and much of the county seat was submerged. Thousands of soldiers and rescuers, joined by traumatised survivors, were battling to clean up roads by using diggers, blocked by the massive avalanche of mud, cascading rocks and sludge unleashed by storms overnight, complicating the task of seeing to the needs of the living. Getting and distributing of food, water and medicine to those in need is no easy task. Clean drinking water was a primary concern, with most local sources destroyed or too polluted to use. AFP correspondent witnessed some shops in town had run out of drinking, but new supplies appeared to be trickling in. Fears of an outbreak of water-borne disease mounted, with corpses still unclaimed and residents living in the rough without proper sanitary conditions. Disinfectant crews in chemical suits repeatedly sprayed disinfectant in the area. Although there have been no reports of an epidemic outbreak, crews in protective suits sprayed chemicals across the ground and over machinery as the smell of death heavy in the air. State media reported numerous cases of dysentery, while infected injuries, a lack of sanitation, clean drinking water and accumulating garbage increased the risk of typhoid, cholera and other diseases. China Daily reported tons of garlic and Sichuan pepper, which were believed to be helpful in the prevention of certain ailments, have been sent to Zhouqu. Loudspeakers in town broadcast messages instructing residents how to protect themselves from disease. Nearly 800 medical workers, concerned about the high summer temperatures that could affect the precarious public health situation, have been dispatched to the scene. Although relatives were encouraged to cremate the remains of their loved ones as soon as possible to prevent health problems, but in the area with a population that is one-third Tibetan, traditional burials are preferred. Throughout the area, bodies were seen wrapped in blankets and tied to sticks or placed on planks and left on the shattered streets for pickup. The bad weather was expected to continue as the National Meteorological Centre warned there was a "relatively large" chance of more landslides in the coming days, as heavier rain was expected, with up to 3 1/2 inches forecast for Friday. While torrential rains were the direct cause of the flood, previous activites of mass tree cutting had left the dry hills exposed and the weakening of cliff faces by a massive 2008 earthquake were seen as contributing factors. The mudslides are the latest in a string of weather-related disasters, as China battles its worst flooding in a decade that has killed more than 2,000 people this year and 12 million evacuated before the Gansu tragedy. It has caused tens of billions of dollars in damage across 28 provinces and regions.
******
In Russia
The last Russia's deadliest wildfires were in 1972 and on last Wednesday, Russian forestry official said fires have scorched forests contaminated with radiation from the Chernobyl nuclear disaster, but it was unclear how dangerous the smoke might be.
Fears of stirring up nuclear pollution from the Chernobyl disaster could take the crisis to a new level, though officials said radiation levels were normal in Moscow.
Strong winds cleared the toxic smoke that has choked Moscow for three weeks on Wednesday, and Muscovites got a glimpse of clear skies after a thunderstorm accompanied by strong winds in the early hours dispersed the smoke.
Some young Russians rejoiced in the rains, dancing in the downpour and cheering the thunder and lightning. But weather forecasters warned it could return in 24 hours.
Fires covering an area of 39 square kilometers (15 square miles) had been registered in regions with forests polluted with radiation included Bryansk province, which borders Ukraine southwest of Moscow and was polluted by radioactive dust that billowed across Ukraine, Russia, Belarus and Europe after a series of explosions at Chernobyl's reactor No. 4 on April 26, 1986.
Radioactive particles could be propelled into the air, in the event of a fire in forests in the Bryansk region said Russian Emergencies Minister, Sergei Shoigu.
Trees, vegetation and the ground that had absorbed some of the nuclear material spewed out in the 1986 accident and blazes were releasing some again into the air.
There is a remobilization of Chernobyl material. That is a side of biomass burning that is under-communicated. There is plenty of this still around.
"The sins of our fathers revisit us." Reuters was told.
The toxic smog over Moscow has some economists believe to eat 0.5% of Russia's GDP.
Russia's deadly summer heatwave, probably the worst in Russian history, had lasted for an uninterrupted 50-day.
The more than 600 wildfires had sent pollution to the highest levels in decades - almost doubled mortality rates in the capital and disrupted flights, consumer activity and even trading in Russian stocks and bonds.
However, the area of burning forests in Russia had almost halved in the past 24 hours to 927 square km (358 square miles) from 1,740 square km (676 square miles), and that nearly 166,000 people were fighting the blazes that raged.
The fire had burnt the expected 4% 2010 economic growth.
Even with the emergency pumping of 54 billion roubles ($1.81 billion) into the firefighting force, it would not fix the gutted fire-protection system and sorely lacks equipment.whose weaknesses have been exposed by the wildfires.
The sweltering weather would not abate this week and hundreds of people are believed to have died from the effects of the heatwave and smoke choking.
Then there's the aggravated drought.
Kremlin leaders are already grappling with drought that has destroyed crops after what weather monitoring officials say was the country's hottest summer in a millennium.
Nobody was to be blame but the forces of nature.
"This is a new challenge from the heavens." Russian mayor said.