A
China Daily
reporter who has gone undercover at Foxconn found that the employees appeared numb.
At a recruitment drive, the reporter was ordered to stand straight under the blazing sun for hours with endless rows of people who lined up for an interview.
Aside from a way of production that reduces its staff to an absolute decimal point, the company had fostered a culture where its staff are trained to shiver in conformity, he observed, while working as a manufacturing worker.
"I have been led to believe this corporate culture was a direct cause of the recent tragedies. "The corporate culture has numbed them to an extent where any organisation and collective struggle are deemed not only undesirable but also backward,'' he wrote.
"For workers on the production line at Foxconn and beyond, killing themselves means no more than to prove to the world their belittled existence and reaffirm to fellow comrades that there is no escape."
Another Undercover Team Reveals The Working Conditions

Between 300,000 and 400,000 employees eat, work and sleep at Foxconn's plant, in Longhua Town, which some have labelled the IT Forbidden City due to its water-tight security. Photo: Reuters
THEY work, some on their feet throughout, up to 12 hours a day, 6 days a week, assembling products that most cannot afford to buy themselves: Apple iPhones, iPads, Dell computers and Nokia mobile phones.
They are not allowed to talk while working and could be fined for doing so. These are some of the conditions workers at Foxconn have to endure, according to an undercover team of 7 Chinese who infiltrated the Longhua plant in southern China's Shenzhen boomtown 2 weeks ago.
The Telegraph reported. 'Hundreds of people work in the workshops, but they are not allowed to talk to one another. If you talk, you get a black mark in your record and you get shouted at by your manager. You can also be fined,' investigator Zhu Guangbing, who organised the undercover operation, told London's The Telegraph. His team included netizen volunteers and 4 Foxconn workers.
Between 300,000 and 400,000 employees eat, work and sleep at Foxconn's plant, in Longhua Town, which some have labelled the IT Forbidden City due to its water-tight security. 'In the past 3 months, the factory has been losing 50,000 staff a month because workers are burning out,' Mr Zhu, a migrant worker and a workplace rights advocate, said. 'The workers are reduced to repeating exactly the same hand movement for months on end.'
***In June 2006, Foxconn petitioned Shenzhen's intermediate court to freeze the assets of a reporter and editor at First Financial Daily in Shanghai after suing the pair for 30 million yuan (S$6m) for defamation. It withdrew the lawsuit 3 months later.
******
For explanation of the above, a 21-year-old assembly-line worker says conditions at Foxconn makes his life seem meaningless. Conversation on the production line is forbidden, bathroom breaks are kept to 10 minutes every 2 hours, and workers get yelled at frequently.
"I know why all those people jumped (from the building)," said Lin Fengxiang, a 23-year-old villager from Maoming, Guangdong, as he walked into his allocated dorm. "In here, nobody gives a damn about you. Too bad I've already got one foot on this boat. It's hard to get off now." Like many his age, Lin is trying to pay off his family's debt by working here. He paid more than 400 yuan (S$80) to get in and has been assigned to Foxconn's Wireless Business Group (WLBG) to assemble cell phones.
During training sessions, recruits are reminded they must politely refuse all interview requests from journalists and then report to their superiors. "Whatever (you think) you should say or shouldn't say, just don't say it." He was reminded. His instructor, a former armed police officer Li Mengqiang, who said has trained more than 30,000 workers, constantly reminded not to challenge his authority unless they dared to "go against all security officers in the company's compound. He had been told by a manager to punish any recruit he saw sleeping or chatting during the training.
"This is their territory. We can only try to survive," said trainee Li Cheng as he tried to comfort a fellow new arrival during lecture, which ended with the audience being made to recite Foxconn's corporate values. The company's mantra, "love" and "integration" are among the most important of their values.
"Labouring for others isn't what I want to do," said Lin Fengxiang, one of Foxconn's new recruits. "I don't want to be rich; I just want to live the life I want. But it must be fated."
Xiao Qi, a college graduate who works at Foxconn in product development earns more than twice as much as a line worker, at 2,000 yuan (S$400) a month but he is contemplating suicide as he has no future - He does the same thing every day, day in and day out.
******
No one disputes that Taipei-based Foxconn, also known as Hon Hai, has cultivated a tough culture. But Terry Gou, the billionaire chairman of Foxconn's parent company Hon Hai, when answering to questions of suicides, he has no idea why so many of his employees are killing
Quoted: "From a logical, scientific standpoint, I don't have a grasp on that," The billionaire told reporters on May 27 at a press conference at the company's vast production facility in Shenzhen, China. "No matter how you force me, I don't know."
The company is confident that it will be able to stabilize the situation soon as workers will be getting a 30% raise although the additional money may not be enough to prevent further tragedies.
Starting June, the basic salary for assembly line workers has been raised from 900 yuan (S$180) to 1,200 yuan (S$240) per month and other staff and foremen earning higher than 900 yuan (S$180) will also be boosted by at least 30%. The pay rise was attributed to rising living costs and corporate performance.
It is with hope that the new pay would help employees increase incomes while reducing overtime and have enough time for leisure activities.The pay rise came after 10 workers killed themselves and 3 attempted suicide at the company's Shenzhen plant this year.
Raising salaries will impact on Hon Hai's costs, pressuring their ability to make a profit. However, that it was also a way to impress foreign investors. The higher wage increase is to reflect rising prices in the mainland, and also hoped to earn the respect of workers and raise efficiency.
The company has faced mounting public anger and questions from its major clients. It will be a test of the long-term relationships with big brands like Apple and Dell.
Shares fell 2% as it moved to quell a storm of bad publicity over the deaths.
The Taiwanese-owned manufacturer defended its labour practices.
Earlier on, Wang Tongxin, vice-chairman of the Shenzhen Federation of Trade Unions, in April urged Foxconn to adopt a more humane style of management. 9 sociologists in Beijing also wrote an open letter to the media that called for Foxconn and other companies to halt what they call "a model where fundamental human dignity is sacrificed for development".
After a spate of apparent suicides among its workers, it was disclosed the latest 2 deaths of Foxconn workers had plunged the company into crisis.
11 days ago there were 2 more fatalities and Foxconn says it has prevented around 20 others from killing themselves since the suicides began.
The family of those who committed suicide will each receive 110,000 yuan (S$22,000) in compensation, the Shenzhen authorities said.
After a suicide earlier this month, Foxconn said its workers enjoyed world-class treatment.
Company spokesman stated that Foxconn carried out social responsibility programs to ensure the welfare of its employees.
Following the recent tragedies, the company's managers have repeatedly cited the fact that they offer free meals and dormitories and free washing services for dorm tenants.
They have installed swimming pools and reading rooms, as evidence of Foxconn's positive treatment towards staff.
It has set up 2 mental aid lines in recent months and plans to recruit psychological counsellors.
It is hoped that with the bringing in of 2,000 choreographers, singers and gym coaches, it will help relieve workers' pressure.
The high reported toll may be due to much public interest in Foxconn, and a larger flow of information from workers with mobile phones and Internet access, as to a rise in suicide rates at the firm, said a Shenzhen-based expert in labour issues.
The Shenzhen factory is a popular place to work, with hordes of applicants lining up for jobs during the hiring season.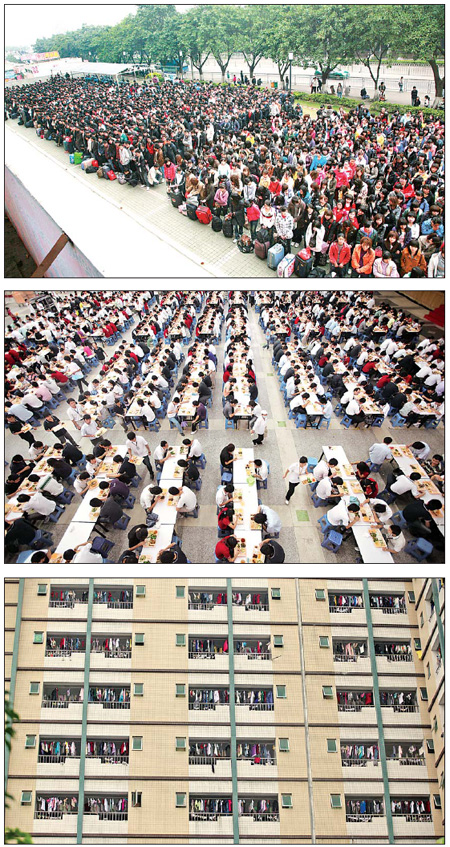 Workers at the huge Foxconn plant in Shenzhen eat, live and sleep on the site. Top: New recruits wait to pass the preliminary health check; center: The compound has 20 canteens and churns out 10 tons of rice daily; bottom: A view of one of the company's dormitory buildings. Provided for China Daily - Xinhua
Foxconn insisted that workers are treated well and are protected by social responsibility programs that ensure their welfare.
Other factories also have similar problems but the problem is that Foxconn is the most well-known. In some isolated companies, it will never be made public of what has happened.
But analysts warned that reports of deaths at the firm, already a target of criticism by labour groups over its working conditions, could make its overseas clients uncomfortable. Nobody wants to buy a product that is associated with a facility at which people kill themselves.
Being a public relations problem, the company has to handle it appropriately although the deaths have also been seen as more of a social issue.
The company will do all to save lives although some of the suicides may have been linked to personal problems. It is taking other steps to get the situation under control.
It has installed netting around outdoor stairwells of dormitory buildings to prevent people from jumping.
Foxconn has set up a hotline that employees can call to receive care and has also hired employee counsellors. Recent counselling sessions for employees also found most employees do not even know their roommates' names, said deputy chairman of the Foxconn workers' union.
They have gone so far as to invite monks to the plant to rid the company of an evil spell.
However, the company has refused to respond to comments by observers about its organisation and management practices, of media reports of employees work long hours of overtime and under a great deal of stress, that the work is monotonous and repetitive and that superiors are nasty toward them.
This psychological pressure on employees, which has come under increased scrutiny, is an occupational health hazard that results from a style of business management and an operations system that were created in the face of globalised competition
Meanwhile, work goes on in Shenzhen. Foxconn's facility which is 3 square kilometers (1.16 square miles) and is crisscrossed by tree-lined streets with a fountain at the center. There's a hospital and a collection of restaurants.
Workers live in dormitories, 8 to 10 people to a room. The company provides worker counselling as many of the young people who work there are first-timers who've been away from home. Without their families, they will left with no direction. The company try to provide them with direction and help.
Chinese psychologists have said that suicide rates among Foxconn employees are not especially high when compared with suicide rates in China as a whole.
This, however, ignores the fact that people who can work are healthier than the general population.
It is incorrect to calculate suicide rates while making the assumption that those who do not commit suicide are all healthy. Suicide is only one possible outcome of prolonged mental health problems. The bigger picture of occupational health involves other psychological threats, such as thinking about committing suicide, depression and anxiety.
The only way to judge whether suicides at Foxconn are high, therefore, is to compare suicide rates there with suicide rates in other industries.
*** Low-Cost Manufacturing Worldwide Companies Demand Are Partly Being Paid By These Human Lives Of Foxconn's Workers Suicides.